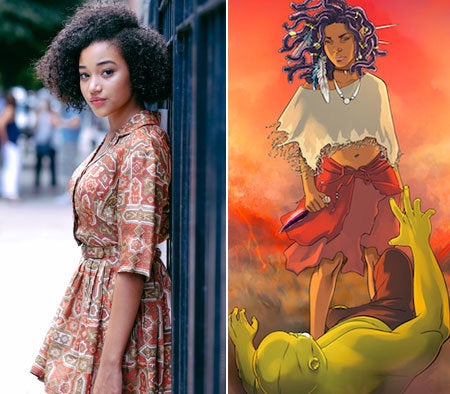 Image from Huffington Post
Amandla Stenberg says we need more badass girls — and she's helping to make that happen.
The 16-year-old actress, who is widely-recognized for her activism around social and cultural issues — is, yet again, speaking up and speaking out for women of color who often go under- and misrepresented. This time, Stenberg is using her talent to create an exciting new comic centered around the experiences of a young black warrior woman named Niobe Ayutami.
The comic, titled "NIOBE: She is Life," follows the protagonist on her adventures to help save the world. Along the way, Niobe, who is half elf and half human warrior, is also on a journey of self-discovery to find out exactly who she is and all the powerful things she can do.
In fact, Stenberg says Niobe's journey is very similar to her own.
"I was drawn to give voice to Niobe and co-write her story because her journey is my journey. I connect to her mixed racial background and quest to discover her innate powers and strengths, to learn who she truly is," Stenberg said in a statement obtained by The Huffington Post.
The similarities don't stop there — Niobe is busy breaking barriers just as Stenberg is doing in reality. Together, the two are a powerful duo who proudly represent women of color through all dimensions.
"She is on a path to a destiny that will test her faith and her will, something we can all relate to. But there's never been a character quite like her — one who shatters the traditional ideal of what a hero is. We need more badass girls!" Stenberg said.
Read the rest at Huffington Post:
Image and text from Huffington Post