Image from TV Line
Is it just me or has the second seasons of 'Dark Matter' and 'Killjoys' reversed places?
Last season Killjoys was definitely the most exciting, with Dark Matter being something of an (admittedly enjoyable) afterthought. This season Dark Matter has picked up steam and become so interesting I'm eager to watch it immediately. The crew (with happy additions) seems to have found their rhythm; and it was a clever move on the part of the writers to eliminate One, who was always something of a killjoy.
See what I did there?
Yet with Killjoys, I'm always a couple of episodes behind- and that's with pretty much nothing else on to watch for the summer. Killjoys seems to have lost its focus a bit this season; the story lines are sprawling and not particularly engaging. Furthermore, Dutch and Johnny haven't been together much this season and they have by far the best chemistry (and comedic timing) of the group. Hopefully it picks up in the episodes I've been neglecting.
Either way, I'm still hoping both shows get picked up for a third season. With diverse casts, creative story lines and tough, intelligent leading ladies they're both worth another go. I would definitely still watch (although perhaps at a lag).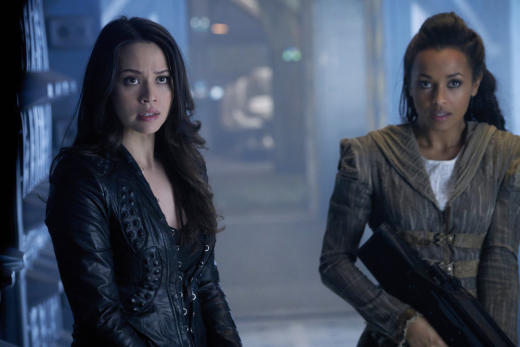 Image from TV Fanatic