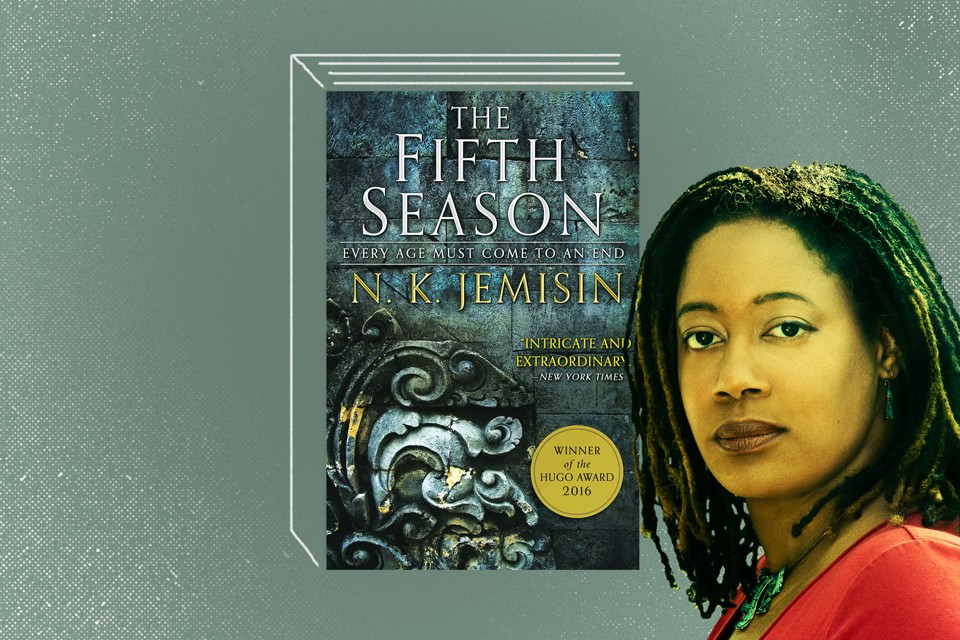 Image from The Atlantic
Last week, the World Science Fiction society named N.K. Jemisin the first black writer to win the Hugo Award for Best Novel, perhaps the highest honor for science-fiction and fantasy novels. Her winning work, The Fifth Season, has also been nominated for the Nebula Award and World Fantasy Award, and it joins Jemisin's collection of feted novels in the speculative fiction super-genre. Even among the titans of black science-fiction and fantasy writers, including the greats Octavia Butler and Samuel Delany, Jemisin's achievement is singular in the 60-plus years of the Hugos.
The Fifth Season is a stunning piece of speculative-fiction work, and it accomplishes the one thing that is so difficult in a field dominated by tropes: innovation, in spades. A rich tale of earth-moving superhumans set in a dystopian world of regular disasters, The Fifth Season manages to incorporate the deep internal cosmologies, mythologies, and complex magic systems that genre readers have come to expect, in a framework that also asks thoroughly modern questions about oppression, race, gender, class, and sexuality. Its characters are a slate of people of different colors and motivations who don't often appear in a field still dominated by white men and their protagonist avatars. The Fifth Season's sequel, 2016's The Obelisk Gate, continues its dive into magic, science, and the depths of humanity.
Check out The Atlantic's interview with the writer covering:
"Her works, politics, the sad puppies controversy, race and gender representation in science-fiction and fantasy the day before The Fifth Season won the Hugo Award."
http://www.theatlantic.com/entertainment/archive/2016/09/nk-jemisin-hugo-award-conversation/498497/
Image and text from The Atlantic