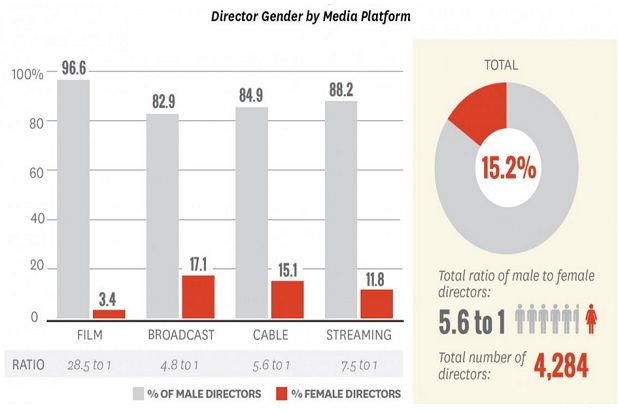 Media, Diversity & Social Change (MDSC) Initiative
A quantitative article about diversity in Hollywood from Variety.com
The report's authors looked at 109 movies, and 306 broadcast, cable and digital series, and found that a third of speaking characters were female, less than 30% were from minority groups and a mere 2% were lesbian, gay, bisexual or transgender. Roughly half of the films and shows the study looked at lacked Asian characters and 20% had no black characters.
Furthermore, and more illustrative as to why this is the case:
It also comes as Hollywood studios are being investigated by the Equal Employment Opportunity Commission for gender discrimination — an examination prompted by the lack of films produced, written and directed by women.
It finds that only 3.4% of film directors were female, 17.1% of broadcast directors, 15.1% of cable directors and 11.8% of streaming directors. Minorities were similarly excluded from directing work. Under-represented ethnic or racial groups directed only 12.7% of films, 9.6% of broadcast programs, 16.8% of cable series and 11.4% of streaming shows.
Television and digital is doing better:
To that end, television and digital players were much more diverse than big screen entertainment. The percentage of female, minority and LGBT characters, as well as female writers, directors and show runners at Hulu, Amazon, Disney and the CW all exceeded 65%.
Variety's analysis:
Hollywood Is a 'Straight, White, Boy's Club,' Blistering Study Finds
The Wrap's analysis (please note the above graphic comes from The Wrap):
Hollywood Facing 'Inclusion Crisis,' New Diversity Study Finds