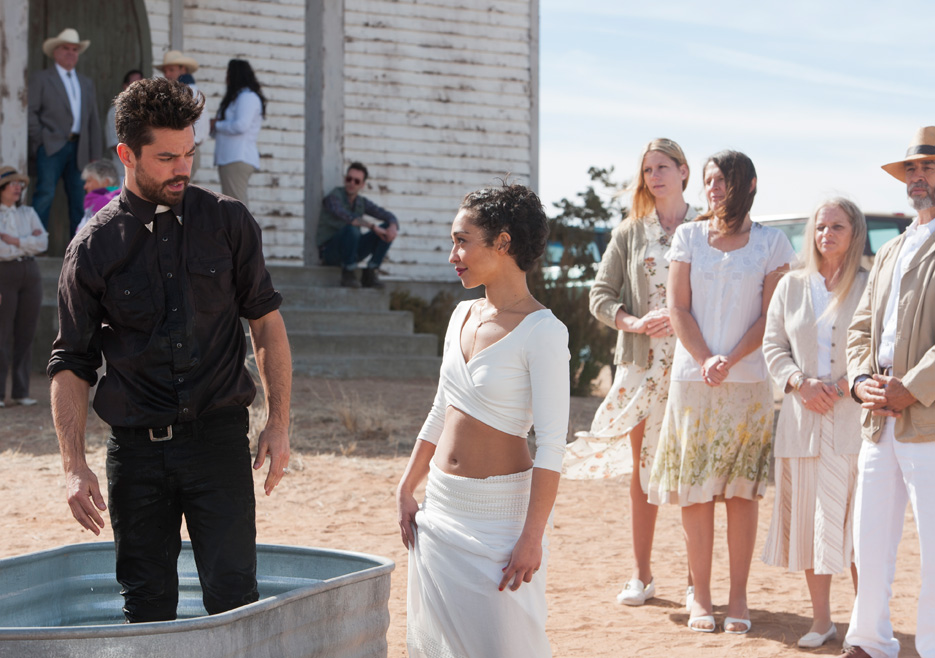 Image from Hiddenremote.com
I've spent time admiring the clever costume design of Preacher, so I was happy to see this article. The costume designer was a fan of the comics before she even got the gig, which I think really comes across...
Creating garments for the first season, Wagner balanced reimagined concepts with those defined in the books. Looks pulled from the comics include two angels who dress like classic film cowboys, and Custer, played by Dominic Cooper, whose clothes are adorned with silver tips.
With every garment she designed or altered, Wagner paid particular attention to the silhouettes of the actors, focusing on creations with a slim fit and sharp, angular shoulders.
In movies, "you can really pay attention to the details," says Wagner, whose film credits include "The Green Mile" and "The Notebook." "But in television, you have to be more focused on the
style and shape, and make sure those aspects linger."
Wagner says she particularly enjoyed reinventing the character of Tulip, played by Ruth Negga. Street-smart and worldlier than the small-town Texas folk around her, Tulip has a strong sense of fashion and color; her wardrobe draws a sharp contrast to the thrift-shop apparel worn by most of the show's other characters.
Negga is often in action sequences, so Wagner had to ensure that the costumes would allow her to perform physical stunts such as jumping over fences.
Meanwhile, to create costumes for Cassidy, a 115-year-old vampire played by Joseph Gilgun, the designer had an innovative approach: She imagined the character wearing whatever items would fit him from the church's collection box.
Text from Variety